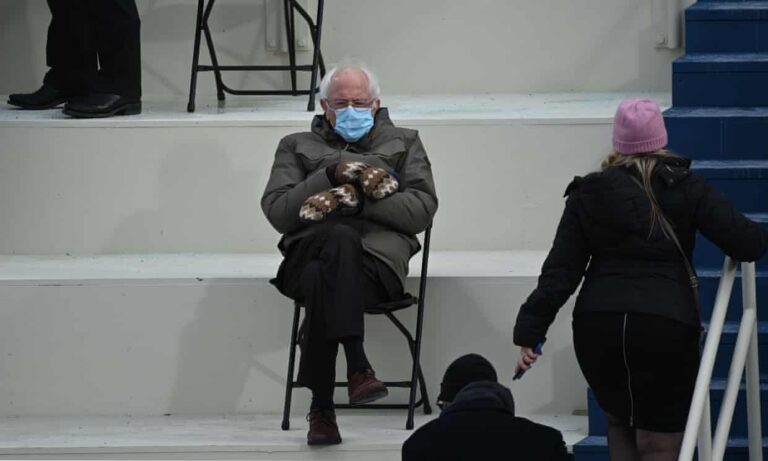 Last week in Washington DC during the inauguration, Bernie Sanders or we should say his mittens, now called Bernie's Mittens stole the show. What may have seen as an ordinary pair of wool mittens, totally stood out and caught the world's attention. The mittens were given to Bernie 2 years ago by a school teacher Jen Elis from upcycled wool. What happens next however, was even more interesting. Jen Elis decided to put her sudden fame to good use. The mitten frenzy has inspired her to donate a couple of her creations to a local animal shelter and teen organization on Ebay and such. Just so you know, they have received bids / donation for $1,900 and $3,700 so far. What non profits lessons from the viral Bernie Mittens do we have here?
Positive side effect of Social Media
People often mention the negative impact social media has on us and our society. In this case, it has a very positive impact if you put it to good use! Jen Elis was overwhelmed by all the attention she was getting then inspired to use it to a good use. The lessons for the non profits is, if you pay attention to the news, observe the current trend, what people are talking about can be very beneficial to your fundraising campaign. The organization and the campaign has to keep up with the times. Always keep your supporters engaged. Your cause and story matters, and people will always respond better to a personal story that speaks to them. 
Join forces with your famous supporters
Non profits need to fundraise regularly, that is the truth. Being creative and think outside the box pays off. Jen Elis is supporters of 2 organizations and she's using her new fame to support them in a big way. 
Another example: our LA local NPR station KCRW is auctioning off a branded bike designed by musical duo Sofi Tukker. KCRW has long been playing their music from the beginning, and the duo was more than glad to use their fan base to bring in more donations. The latest custom T-shirt sold by LA hiking expert Casey Schreiner (aka Modern Hiker) was designed by local LA artist. 
When you join forces with someone else, your combined powers will result in a supercharged campaign. Find out if there is a well-known donor / supporter for your non profit, and ask for collaboration. Whether it is a fundraising t-shirt, or a special branded item to be auctioned, there is an advantage to collaborate.  For a school fundraiser, look for a famous alumni, or supporter with a special skill that can bring your next fundraiser to the another level.
Hopefully we provided some helpful non profits lessons from the viral Bernie Sanders mittens. Do you need marketing and promotional items ideas for your next fundraiser? We'd love to hear from you!