Here are 5 popular promotional products for your project. After spending hours at a couple of large promotional products tradeshow we are back bringing you the latest trend in promotional products! To summarize, personal electronic and mobile items are still a big hit with a focus in wiresless technology; wearable items are no longer limited to t-shirts and sweaters but you can now get branded wearable items for pretty much everything else.
1. Fidget pens
2017 was a big year for a little toy called fidget spinner – now we have the fidget pen! It is discreet, hides in the tip of the pen to help individuals in meetings, or while working at their desks. It comes in different styles for personal fidgeting preference! The Spinnit Pen is an elegant, ergonomic fidget pen that combines function and fun. The Hover Fidget Spinner pen spins with ease and definitely adds an element of surprise to an ordinary pen.
2. Mobile accessories
Mobile accessories remain to be a popular category in promotional products. Popsocket is the most sought-after in mobile stand. Already a very popular retail products, Popsockets can be customized with full color graphics, edge to edge printing to showcase your design and logo. New this year, the aluminum Popsockets have a metallic finish and adds a bit of elegance to this product. Imprints are laser-engraved and will not fade.
3. Mobile power supply
Mobile charging devices (power banks) have been a customer favorite for the last couple years; the new trend this year is mobile charging. With the new Qi-enabled iPhone 8, iPhone X and Samsung phones, they can be charged without any cables. Wireless charging pads is a very affordable item with a large imprint area. Simply place the phone on top of the charging pads your phone will re-charge! Wireless charger with power bank combines the 2 accessories into one – wireless charging and a mobile power bank. Take it with you and charge it wirelessly wherever you go. Full color edge to edge imprint, new shapes and designs add endless branding possibilities to this mobile device, such as this Power Bar with full color wrapper.
The brand new Boltron wireless charging pad:

4. Audio speakers and ear buds
Bluetooth speakers and ear buds continue to be another crowded favorite, but with better quality sounds and printing technologies! Like the Boxanne Bluetooth speaker, thanks to its built-in subwoofer, the pocket-sized it packs an enormous punch! Comes standard also is the dual sided full color imprint, maximizing your marketing power. Kronies True Wireless Earbuds has 33 ft. wireless range and a built-in microphone, the logo is printed in full color with clear epoxy dome. Check it out in the video below:
5. Wearables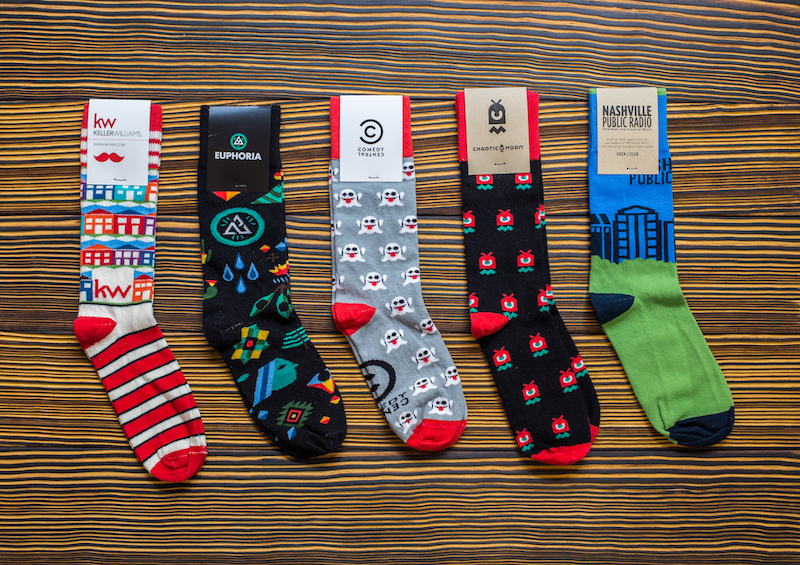 New digital printing technology now allows us to print your logos from head to toe (literally!). Hats, scarves, sunglasses, necklace/charms, ties, gloves, socks and shoes! Socks have been a big trend. Full color dye-sublimated athletic socks from retail brand Strideline has been a school favorite promotional product. While many companies also love the look of woven dress socks. These unisex socks are great for giveaways, employee appreciation. They have a great perceived value and are so comfortable you may not ever take them off!
Do you need ideas for your next event and promotion? Contact us today!